Paso Fino Horses for Sale:
MARES:

GELDINGS:
We are offering trained Paso Fino saddle horses for purchase because of the recent arrival of ten untrained rare pure Puerto Rican Paso Finos whose former owner could no longer care for them. We want to focus on training these new arrivals.

The horses offered have each been valued members of our farm for three to six years. It is important to us that these horses go to homes where they will be valued and well cared for.

Our horses live in groups, which helps keep them mentally and socially healthy. They are in individual stalls for only a short time for their daily vitamins/mineral supplements. They are barefoot. Depending on the time of year and their individual needs, hooves are trimmed every three to six weeks, using the wild mustang hoof as the model.

Why Do We Have Paso Finos?

There are many wonderful breeds of horses--so why do we chose the Paso Fino? Just a few of the traits that have endeared them to us:

The Smooth Ride -- We have had people ranging in age from young children to 70-year-olds express delight in how comfortable the ride is on these Paso Finos. And for those of us with painful back and/or joint issues, it is a wonderful gift these horses provide us in being able to go horseback riding without aggravating our ailments/aches.

Friendly Demeanor -- Each horse is an individual, but most Paso Finos we have spent time with have seemed to enjoy human companionship and have been friendlier than average.




Hardiness and Longevity -- Paso Finos are known for their ability to adapt well to a wide range of climates--from bitter cold to humid tropical heat--and for their long, useful lives. One veterinarian commented to us that "Pasos are the size that horses were designed to be and tend to hold up well over time".

Moderate Size -- The dimensions of most Paso Finos makes them easier to groom, saddle, mount and dismount than taller horses. Their moderate width also means that the rider's hips and knees are not spread so far apart. Plus, feed consumption is typically less.

Versatility -- Paso Finos are successfully engaged in a remarkable range of activities. Recreationally, they excel at trail riding, trekking, parades, hunting and horse soccer. Many Pasos are naturally "cowy", and can be found herding, sorting, team penning, and cutting cattle. In competitions, they are used in endurance, competitive trail, obstacle trail, barrel racing, pole bending, cowboy mounted shooting, freestyle competition, field trials, cowboy dressage, Western Pleasure, English Pleasure and of course, Paso Fino and open gaited horse shows.
The trail always looks better when on a horse!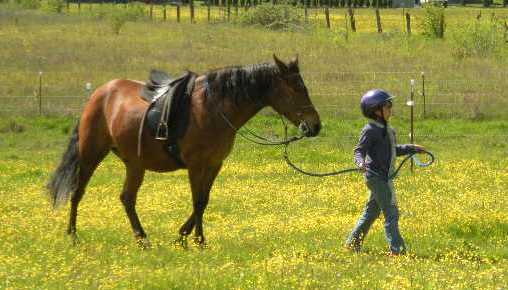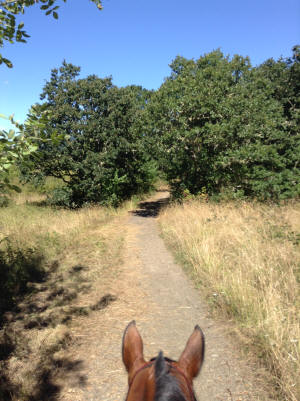 Hikari doing some pre-ride warm-up