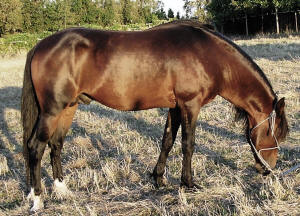 Turabo Segundo, Puerto Rican bay stallion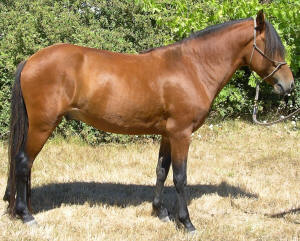 Royalty's Prince Vaho, Puerto Rican bay stallion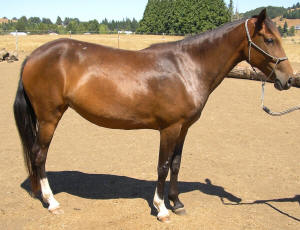 Royalty's Muchacha, a Puerto Rican bay filly
Describing the differences between Columbian and Puerto Rican strain Paso Finos should be approached with great care. Because there are enough variations within each strain, and overlaps in traits between the strains, it is best to think of the following comments as soft descriptions, not points of fact. Furthermore, keep in mind that the following is based on our personal experiences and observations, which have their own limitations. With these caveats firmly in mind, let's proceed.

To begin with, there are magnificent horses in both strains. We have horses of both strains and do not consider one better than the other, just somewhat different.

Both Columbian and Puerto Rican strain horses come in a wide range of coat colors, including but not limited to bay, brown, chestnut, black, gray, lineback dun, palomino, buckskin, cremello, perlino, pinto and roan. Blacks and especially grays are common in the Columbians, but quite rare in the Puerto Ricans. Solid-colored horses with no white on the legs and little or no white on the face are common in the Columbian, but less common in the Puerto Rican.

In conformation and type, both strains produce horses that are handsome to look at. The Puerto Ricans tend to have a traditional Spanish horse appearance, sometimes with a longer head. The Columbians are inclined to have a bit more refined, modern horse look.

Both strains produce horses with the desired four-beat gait that is comfortable to sit. The Columbians tend to have quicker feet, an advantage when being presented in a traditional Paso Fino show class. Puerto Ricans often have a softer foot fall.

Columbians tend to have more intensity, which can be an advantage at Paso Fino shows--especially in the Classic Fino and Performance Classes. We have found Puerto Ricans have a tendency to be innately trusting, which is a real plus when training them or riding in difficult situations.

While listening to people discuss the differences between these two strains, we've heard the following automotive analogy used several times: Columbians are the sport cars of the breed, while Puerto Ricans are the 4-wheel-drive sports utility vehicle. However, we've certainly owned and ridden very sporty pure Puerto Ricans!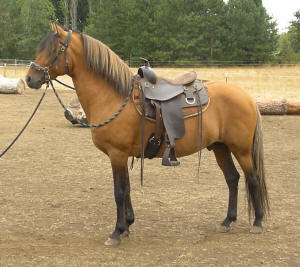 Vigilante de United, a Columbian lineback dun gelding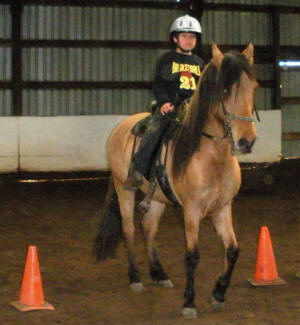 Escondalo de United, a Columbian lineback dun gelding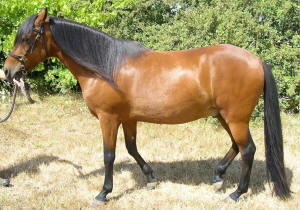 Pacto de United, a Columbian bay gelding